A highly skilled specialist aesthetic doctor with over a decade's experience in non-surgical cosmetic procedures, Dr Rose strives to be the very best in the field; as one of her patients you can rest assured you are in the safest hands.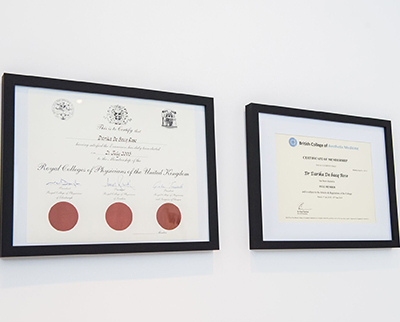 During your free, unhurried, no-obligation consultation, Dr Rose will provide a safe and relaxed environment where you are encouraged to discuss any procedure or diagnosis, ask questions and voice concerns. She will find out exactly what your personal treatment goals are, and discuss with you a tailored program. She importanty suggest a combination of treatments to optimise results. Dr Rose understands that talking about the way you look can be daunting, and aims to have a relaxing clinic where patients can talk freely and feel understood; you will always be treated with care, professionalism and total confidentiality.
Dr Rose will only prescribe products and treatments that she genuinely believes are right for you; there is no hard sell or pressure whatsoever. Treatment costs, possible side effects and aftercare are discussed prior to treatment, to enable you to make well-informed and balanced decisions. Follow-up and review appointments are also free of charge. Dr Rose offers the very latest and most effective treatments and procedures, with the highest safety profiles.
Click here to view a before and after photo of one of Dr Rose's patients, who received a combination of treatments to enhance and restore confidence.
---
From some of Dr Rose's patients …
"I've been coming to Dr Rose for eight years now. Her knowledge and expertise are second to none. The results are impressive and I find them both subtle and differentiating. My friends never grow tired of telling me how fresh and great I look. I can't recommend Dr Rose enough."
"I am thrilled with the results ... so very natural but has made a difference, just as you described … you have one very happy client who is so pleased to have finally made the decision to have the treatment!"
"I feel ten years younger since visiting Dr Rose for facial treatments. People tell me all the time how I don't look my age and want to know my secret. That secret is Dr Rose. I trust and value all the advice given, even when I'm told that what I want won't work for me! Dr Rose gives a practical and professional service every time, I no longer fear looking faded in my fifties. With Dr Rose's confidential care my fifties are fabulous!"
"I travel from London to see Dr Rose and have been using her for ten years and would never let anyone else touch my face. I trust her implicitly."
"Having worried with other doctors, Dr Rose is by far the most professional and conscientious of them all; very caring and welcoming to all in her care."
"I won't be going anywhere else! You are the best and I wouldn't trust another soul with the treatment."
"I simply cannot recommend Dr Rose highly enough. I feel very lucky and honoured to be in such kind, patient, professional, talented, highly qualified and trustworthy hands. I feel no discomfort whatsoever and I come away feeling naturally very good for my age; she is my guilty secret!"
"It looks amazing! Thank you so much – I can't tell you just how brilliant you are … I've been genuinely lucky to have found you all those eight years ago."
"Absolutely made up with the results and have been telling everyone about you."
"Skin looks fab today. Thank you so much for all your skill and expertise and for being so intuitive."
"I feel like a totally fresh version of me!"
"As ever, an excellent treatment by Dr Rose. She always takes time to talk through how you are feeling about yourself and the results and most importantly expectations."
"Totally professional, would recommend to everyone I know."
"I just wanted to say how happy I am with my lips, the swelling went down the very next day and I was left with what I can only call a beautiful work of art. Amazing. Thank you."
"Fully recommend, extremely honest."
"My skin is still looking flawless after the last Dermalux treatment … also the hyperhidrosis treatment worked great. It started working within a few days and I no longer sweat apart from in the gym … Thank you so much for all your help getting me ready for the wedding. I can always rely on you to make my face flawless."
"When I first met her I thought how can this slim attractive woman really understand what it's like to struggle with your weight and be on a diet?! I was so wrong! Darika totally 'gets' it all! It's unusual to see a doctor that is so personable and friendly yet still able to maintain total professionalism. What I liked best was the eye contact, she actually listens and has real, practical advice. She is never judgemental and always encouraging and positive. Never patronising. She spends a lot of time with each patient, trying to thoroughly understand their needs. I always feel Darika has my best interests in mind, holistically … Wish all doctors were like her!"
"The treatment has made a huge improvement to my appearance, I've had so many compliments about how fresh I look, and I think this is the best I've looked in a very long time, thanks to you."
"I look like a new woman already! Thank you so much."
"My face has settled down really well. I am really chuffed with it, so thank you very, very much. It is just as you said, I can glance in the mirror and not look as tired as I feel! Brilliant."
"Always excellent."
"I have been visiting Dr Rose for three years now. She is most professional, which does of course inspire confidence, and yet she allows her sparkly personality to shine through, too. This means that a 'visit to the doctor' has become like visiting a friend for a chat: a chat which includes me leaving feeling, and looking, much better!"
"Love what you did, feel ten years younger!! X"
"I'd like to thank you and to say what a wonderful caring service you are providing."
"Thank you so much for this afternoon. Everything looks great. You are very clever!"
"I just wanted to let you know how delighted I am with the results so far - so glad I found you!"
"Thank you, Dr Rose, I think you must be the only doctor who genuinely cares about how much money I'm spending."
"Very lovely. Very friendly. Very professional."
"I like Dr Rose because she is very generous with information. I learn a lot from her and she also helps keep me going on the diet. She is a 5 stars doctor. I like her."
"Always very satisfied with my treatment received by Dr Rose, she is very gentle."
"I looked forward to coming to see Dr Rose today. I wasn't disappointed. I enjoyed my visit and have gone home feeling more confident about my appearance."
"Thank you so much for working your magic."
"Lovely setting, which also sells carefully selected products. Dr Rose is a very skilled practitioner. I would not go to anyone else!"
"Dr Rose is polite, easy to talk to and from my experience, an excellent clinician. I travel approximately 60 miles for treatment by Dr Rose."
"An absolute pleasure!"
"Competent, trustworthy, would definitely recommend!"
"I trust Dr Rose and have been seeing her for nearly ten years now."
"Fantastic experience."
"I wouldn't go anywhere else!"
"My skin has never looked so good visually or aesthetically thanks to Dr Rose. Her professionalism, skill and attention to detail put you at ease with every procedure. They are a fantastic team at the clinic which makes every visit a pleasure. Thank you, Dr Rose."
"Absolutely nothing [to improve], perfect in every way."
---
And from colleagues …
"Dr Darika de Bacq Rose is a very knowledgeable and reliable doctor, committed to continual learning and the improvement of her skills. She is a highly valued colleague who is always ready to share her experience and expertise."
"Darika is a well-respected and expert colleague who is dedicated to her profession."
"She has proven to be a very reliable and capable tutor."
"She is friendly and kind."
"Very professional and expert colleague."
"Professional and well liked. Great feedback from patients and easy to contact if we require advice or guidance."
"Great member of the team. Approachable and easy to discuss cases with. Lovely personality and I am sure her clients are very happy with her skills and communication."
"Dr de Bacq Rose is a reliable, enthusiastic and popular tutor who always receives excellent feedback from her students. She is a pleasure to work with."