As we age, our lips start to look thinner and lose their definition; you may have noticed fine lines forming around your lips and at the corners. Naturally thin lips or lips that have lost their plumpness or definition can be enhanced using our tried-and-tested dermal fillers. Dr Rose's years of experience and highly skilled technique will ensure that you achieve subtle, natural-looking results.
Dr Rose can:
Achieve a more defined lip line
Reduce fine lines around the lips
Add fullness and plumpness to lips
Enhance your cupid's bow
Correct drooping corners of lips
Correct asymmetry
For more information on lip enhancement, click here.
Her professionalism, skill and attention to detail put you at ease with every procedure.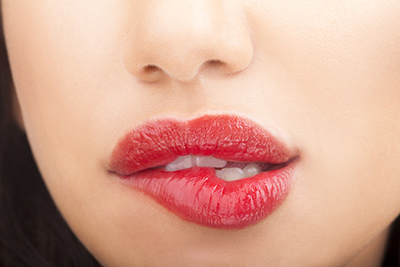 ---
Questions and answers
What product is used in a lip enhancement treatment?
A hyaluronic acid dermal filler is used in a lip enhancement treatment. There are a number of dermal fillers that have been specifically designed for the lip and surrounding area, such as Teosyal® Kiss and Juvéderm® Ultra Smile. These are clear gels containing synthetic hyaluronic acid. Hyaluronic acid is a naturally occurring substance found in the body that gives volume to skin.
What happens during lip enhancement treatment?
Dr Rose will use a local anaesthetic to numb the lip area, as it is extremely sensitive. Once this has taken effect, an ultra-fine needle is used to inject the lip area with the dermal filler.
How long does it take?
The whole procedure takes between 30 and 45 minutes.
Is it painful?
Dr Rose will use a local anaesthetic or a dental block to numb the lip area prior to treatment, so any discomfort will be minimised. In addition, the fillers used by Dr Rose contain small amounts of local anaesthetic, so the lips will become increasingly numb as the treatment progresses.
What results can be obtained from a lip enhancement?
Lips can be given more volume and plumpness, the lip line or cupid's bow can be accentuated, the shape of the lips can be enhanced or changed, and asymmetry can be corrected. Drooping corners can be lifted, and lines around the lips, often caused by smoking or simply by ageing, can be filled to give a smoother, more youthful appearance.
How long does it last?
Although the results vary from one person to another, the results of a lip enhancement treatment with dermal fillers can last for up to six to nine months. The filler is gradually broken down and absorbed by the body; eventually, without top-up treatments, your lips will return to their previous appearance.
Is the treatment safe? What are the potential side effects?
The dermal fillers Dr Rose uses are extremely safe. It is not unusual for patients' lips to appear swollen or show slight bruising for up to a few days after treatment. Dr Rose will discuss this with you during your consultation.