TrichoTest™ for hair loss treatment
Dr Rose is pleased to offer TrichoTest™, a unique and innovative test which analyses your DNA profile alongside other relevant factors to allow a full understanding of the causes of your hair loss. The results of TrichoTest™ allow a personalised treatment plan to be recommended.
Hair loss (alopecia) is a progressive condition affecting millions of men and women across the UK. It is caused by our inherited genetic differences combined with our lifestyles and other environmental factors. The sooner targeted treatments are put into place, preserving the existing healthy hair follicles and stimulating regrowth, the more effective they are likely to be.
TrichoTest™ can be used by:
Anyone who wants to understand their genetic programming for current or future hair loss.
People with a family history of hair loss.
Men and women who have tried different hair loss treatments with little or no success.
TrichoTest™ is a simple two-step process involving:
A painless swab from inside your cheek to obtain a DNA sample. The test can be posted directly to you to perform at home under virtual supervision by Dr Rose, or taken by Dr Rose in clinic.
A brief online questionnaire to gather relevant lifestyle information.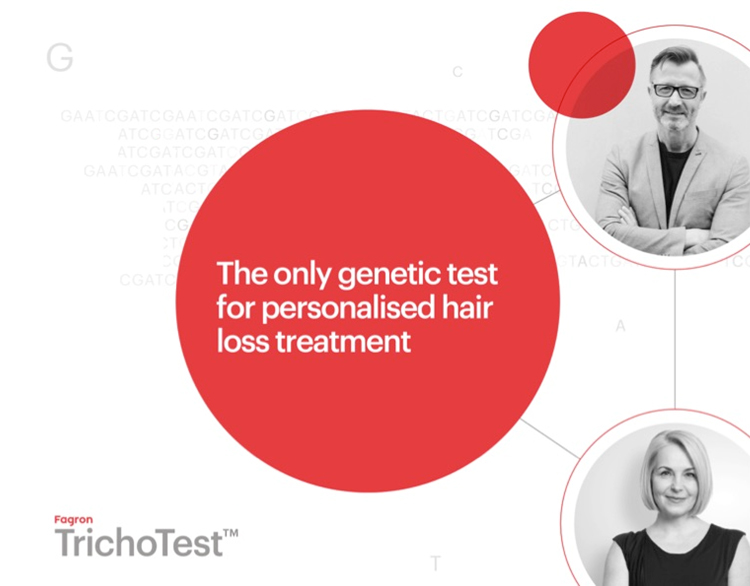 These are analysed together by Fagron Genomics to identify the specifics of your unique genetic makeup and metabolism that contribute (or will contribute in the future) to your own hair loss. All 48 genetic variations analysed in TrichoTest™ have been scientifically validated through population studies.
I found it so interesting to learn that there are multiple factors linked to our genes and their expression which not only impacts the causes of hair loss, but also the efficacy of any treatment. This simple test is able to provide invaluable, personalised information to help guide both existing and future treatment options.
---
Your detailed report, received in 14 days, identifies the options most likely to maximise the effectiveness of your hair loss treatment or prevention. Dr Rose can then discuss with you an informed, individualised treatment plan across seven hair loss treatment categories. For complex cases, Dr Rose may recommend referral to a specialist trichodermatologist. The results of your genetic analysis, valid for life, are highly precise with 99.9% reproducibility.
TrichoTest™ is an exciting development in the field of personalised medicine; a move away from a 'one size fits all' approach to one which uses targeted therapies to achieve the best outcomes.
Available soon: TrichoXidil™
TrichoXidil™ is a clinically proven, natural hair growth solution which is applied directly to affected areas. TrichoXidil™ contains a vegan-friendly phytocomplex with a unique combination of plant oils proven to stimulate the production of three hair growth factors (KGF, IGF-1 and VEGF).