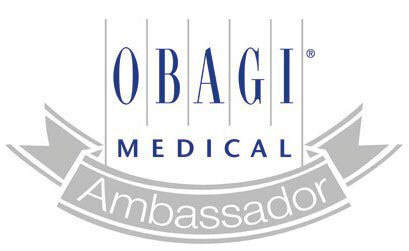 Dr Rose Club is proud to be an official Obagi Ambassador Clinic, and Dr Rose is able to advise on and prescribe the full range of Obagi® products, the number one physician-dispensed skin care range in the world. Obagi® products have been specially formulated to transform the skin from within, and are clinically proven to treat a wide range of skin problems including fine lines, wrinkles, melasma (dark spots), hyperpigmentation, laxity, uneven texture and acne.
Obagi's unique SKINCLUSION initiative celebrates diversity and inclusion around the globe.
From Obagi's culture to its product development, the company has a 30-year legacy and a commitment to diversity and inclusion in all aspects of its business. Obagi was the first medical skin care company to ensure all clinical research protocols include people from all six Fitzpatrick skin types, meaning the range is effective and suitable for all. For more information on SKINCLUSION, click here.

Obagi Nu-Derm® system
The Obagi Nu-Derm® system comprises a range of prescription-strength daily skin care essentials which penetrate below the skin's surface to transform skin cell functions and correct the damage within. Used at a specific dose and frequency recommended by Dr Rose for your skin condition, the system exfoliates old skin cells, reversing signs of ageing (such as fine lines, wrinkles and age spots) caused by photodamage and other environmental stressors, and leaving healthy, younger-looking skin.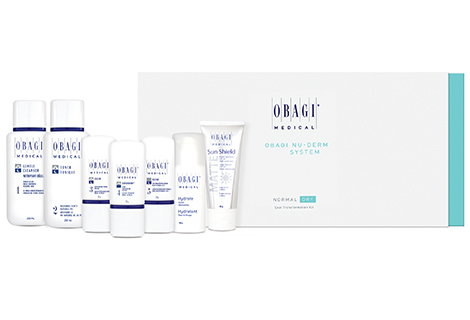 before and after images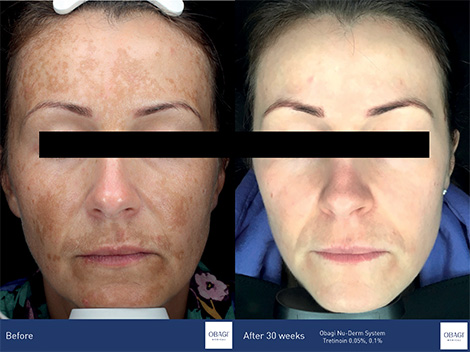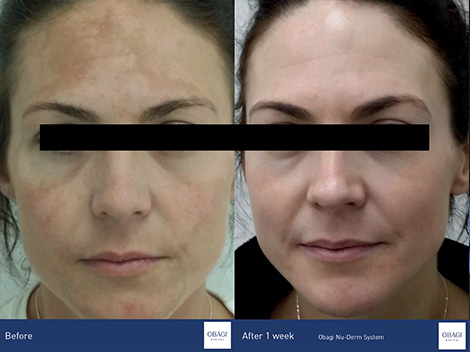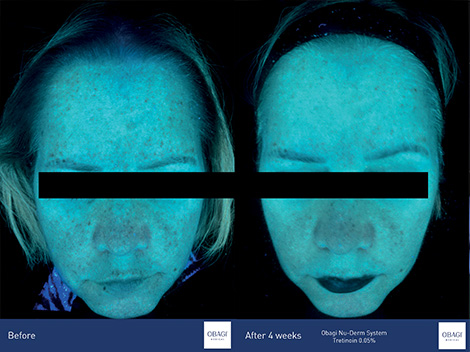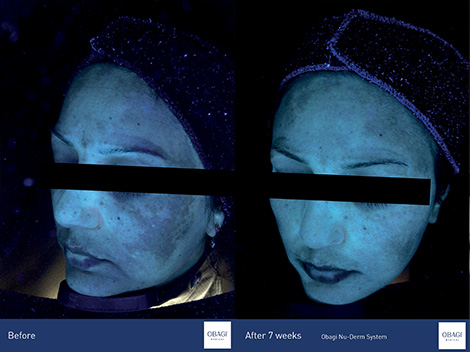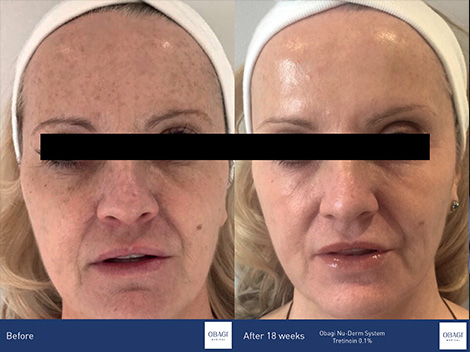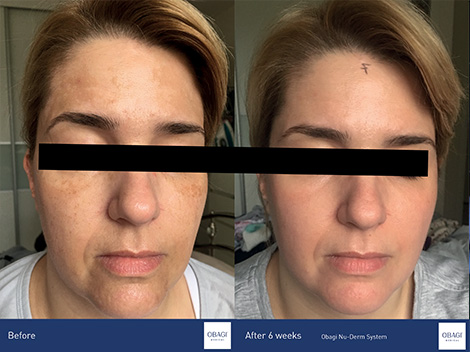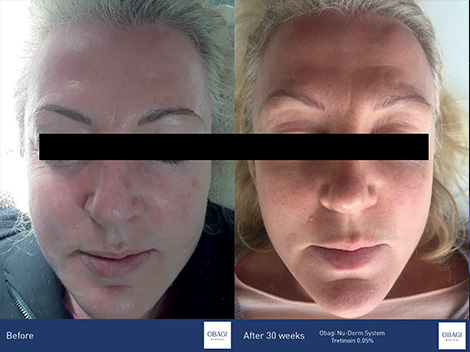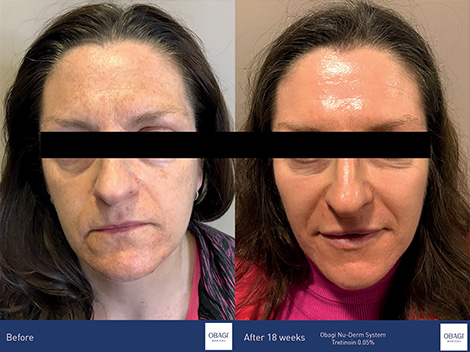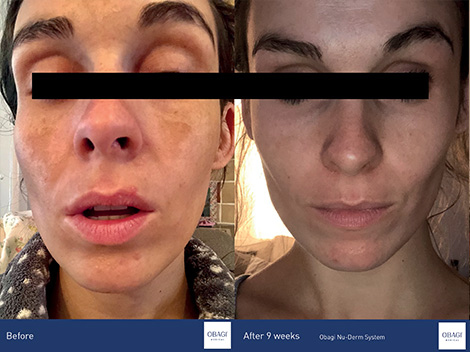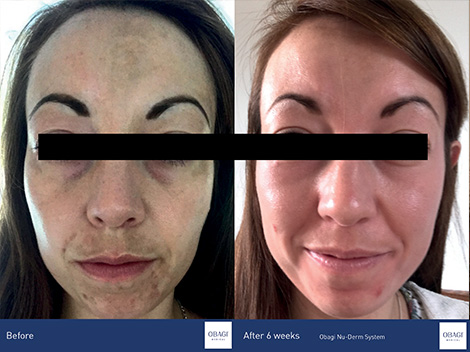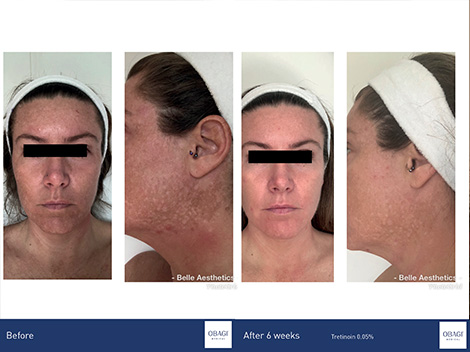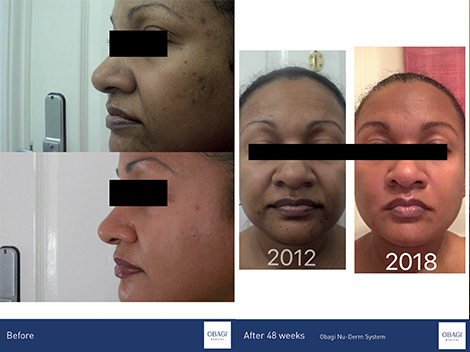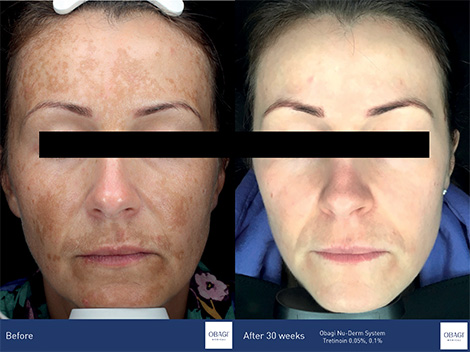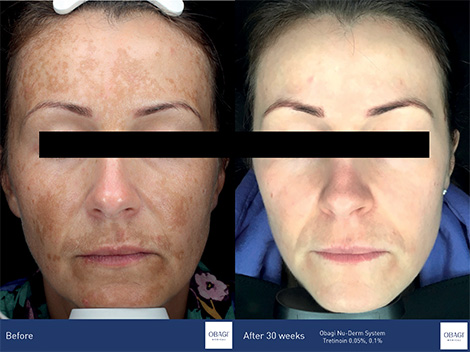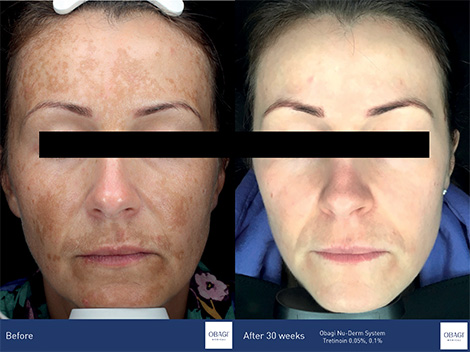 ---
Obagi-C® systems
The patented Obagi-C® systems, offering the benefits of both prescription-strength hydroquinone and potent vitamin C, are complete skin care regimens that proactively correct signs of damage to help restore and maintain healthy, radiant skin. Obagi-C® systems improve the appearance of hyperpigmentation, accelerate skin turnover to restore radiance, promote skin rejuvenation through stimulation of collagen production, and neutralise free radicals to protect the skin from future damage. The low pH of Obagi-C® systems maximises antioxidant absorption and improves shelf-life compared to other vitamin C products. There are two customised Obagi-C® systems; one for normal to dry skin, and one for normal to oily skin.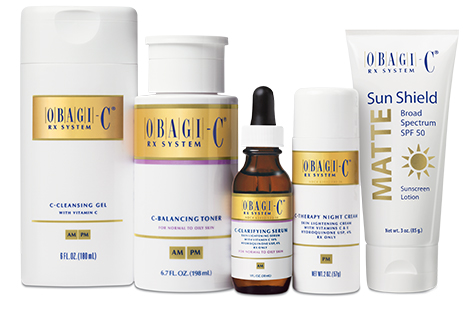 before and after images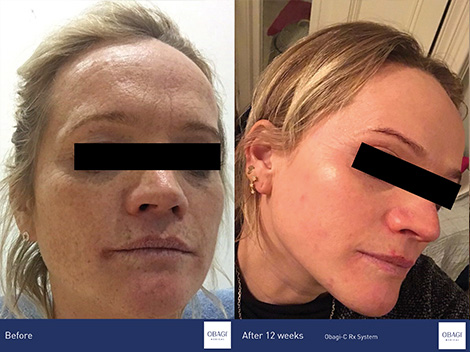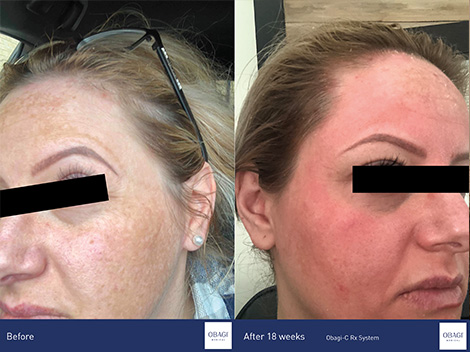 ---
Obagi® Retinoids
Retinoids, a class of synthetic and naturally occurring vitamin A compounds and derivatives, are popular and potent treatments for improving complexion and skin texture. Obagi® has a comprehensive portfolio of retinoid products for a wide range of needs.
High-concentration retinol formula minimises the appearance of fine lines and wrinkles, improving complexion and smoothing the appearance of uneven skin texture for clearer-looking skin with minimal irritation.
Prescription retinoic acid (tretinoin) is used to treat acne, pigmentation and skin ageing.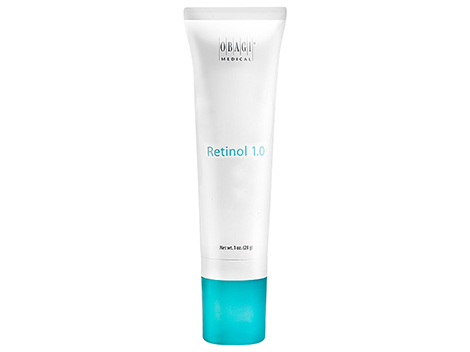 ---
KèraPhin™ body smoothing lotion
KèraPhine™ works to smooth bumpy skin patches on the arms and legs, using powerful exfoliants and rich emollients including 15% glycolic acid and 5% ammonium lactate. Studies have shown that daily use leads to statistically significant improvements in visual bumpiness, tactile roughness, dryness and scaling, after just four weeks.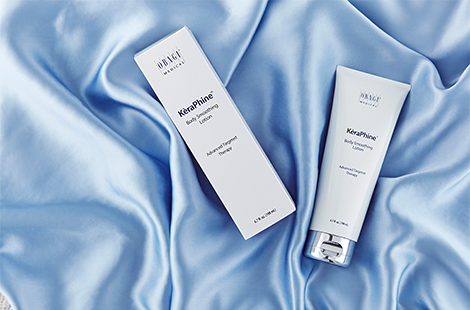 ---
Obagi360®
Obagi360® products represent a complete approach to address the skin concerns of younger patients, proactively protecting and preserving youthful-looking skin and laying the foundations for lifelong radiance
Exfoliating cleanser works mechanically and chemically to clear clogged pores, revealing a soft, smooth, radiant complexion.
Retinol 0.5% contains an entrapped form of retinol, released gradually to refine the complexion and smooth the appearance of uneven skin texture, for clearer-looking skin with minimal irritation.
Hydrafactor Broad Spectrum SPF50 is a dual-function soothing moisturiser and broad-spectrum sun protector to prevent skin damage from harmful UVA and UVB rays.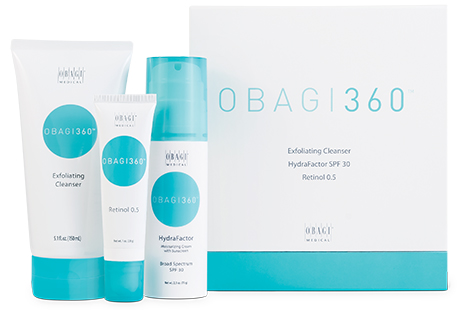 before and after images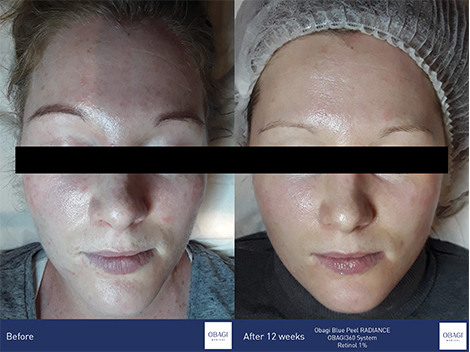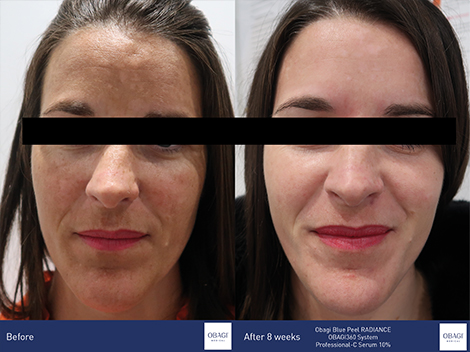 ---
CLENZIderm M.D.™ systems
Obagi CLENZIderm M.D.™ systems are unique prescription-strength acne treatments containing a patented form of benzoyl peroxide (BPO) to treat acne where it starts, at the root. Other BPO-based treatments are formulated with insoluble micro- or macro-crystals which can remain on the skin surface. CLENZIderm M.D.™ systems are the only prescription-strength acne therapies to contain a solubilised form of 5% BPO, just 1/10,000 the size of any other BPO product available, designed to penetrate deep into the follicle and clear acne fast.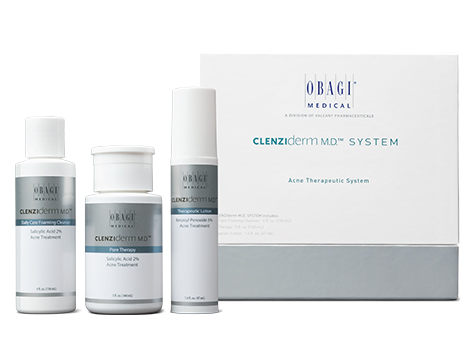 before and after images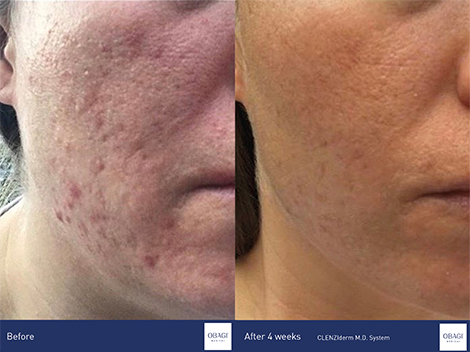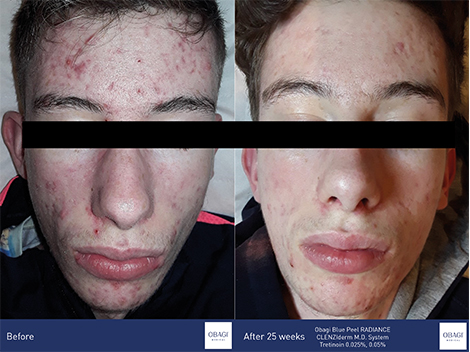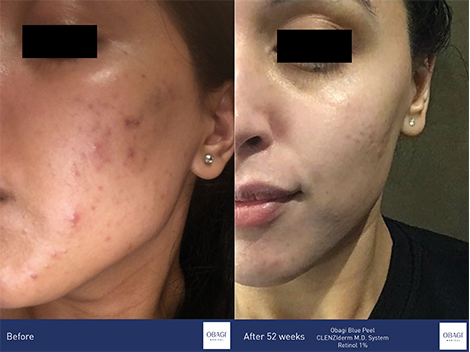 ---
Obagi® Hydrate® and Hydrate Luxe®
Using innovative technologies and naturally derived ingredients, these non-irritating hydrators are designed for a variety of skin types. A key ingredient of both Hydrate® products is hydromanil, from the seed of the Peruvian tara tree. This ultra-advanced moisturising ingredient captures and retains water and assimilates it into the skin in an immediate and natural way, to enhance your skin's appearance and texture.
Hydrate® moisturises the skin with a unique two-in-one action. Hydromanil matrix molecules remain on the surface, creating a barrier and reducing moisture loss, while a water-bearing 3D matrix captures and retains water, continuously releasing moisturising compounds within the skin throughout the day.
Ultra-rich Hydrate Luxe®, engineered with key biomimetic peptides, provides extra-strength overnight hydration and has a luxurious balm-like texture. With naturally derived ingredients including hydromanil, shea, mango butter and avocado, Hydrate Luxe® allows natural exfoliation without losing hydration, and leads to a consistent improvement in moisture retention.
---
ELASTIderm Eye®
ELASTIderm Eye® treatments aren't just another eye cream. Only ELASTIderm Eye® is clinically proven to help:
Restore the elasticity lost or damaged by age and sun exposure (46% increase in elasticity after nine weeks).
Reduce visible fine lines and wrinkles by restoring elasticity and building collagen (16% decrease in number of visible wrinkles after nine weeks, with results in just two weeks).
ELASTIderm Eye® products contain a unique combination of gentle yet powerful ingredients, delivered with Obagi's Penetrating Therapeutics™ technology which helps drive the ingredients deep into the skin. Bi-mineral complex with zinc and copper helps restore elasticity and build collagen; malonic acid, in a patent-pending Obagi® formulation, stimulates skin cell production; blueberry extract provides antioxidants to help eliminate free radicals that deprive skin of its youthful glow; caffeine reduces under-eye puffiness.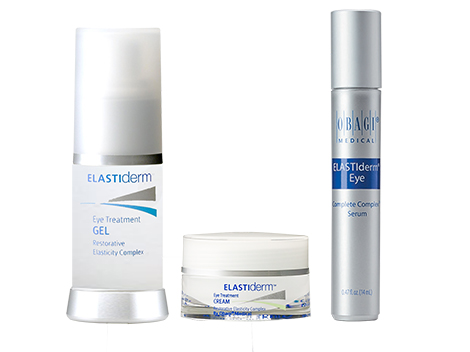 before and after images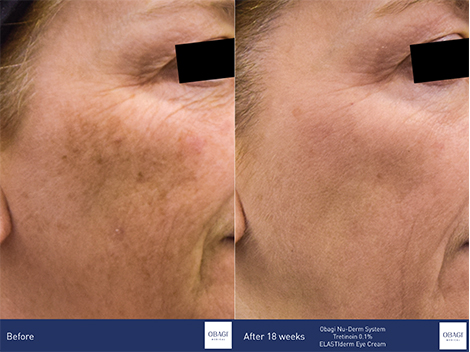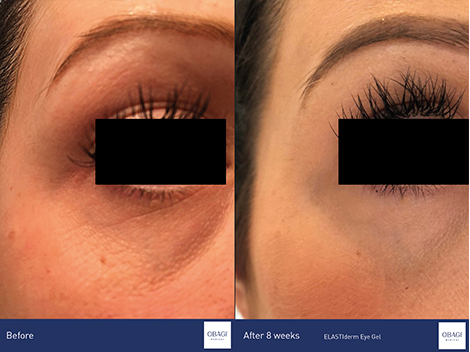 ---
Obagi Blue Peel® and Blue Peel RADIANCE®
Combining trichloroacetic acid (TCA) with a specially formulated 'blue base' to monitor penetration and tailor the process to your skin's needs, Obagi Blue Peel® and Blue Peel RADIANCE® are fast ways to dramatically improve the appearance of your skin. They effectively remove layers of aged and damaged skin, helping them to be replaced with healthy ones, improving clarity and tightness and treating skin concerns including fine lines, wrinkles, age spots, blemishes, enlarged pores, skin laxity and rough, uneven texture.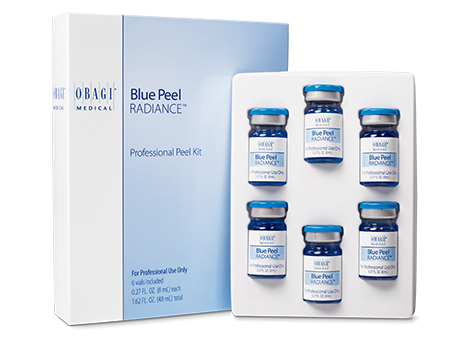 ---
Obagi® sun protectors
Protection from the sun's UVA and UVB rays is important all year round, and Obagi® offer a range of highly effective products for this purpose. Obagi Sun Shield broad-spectrum SPF50 uses micronised zinc oxide and octinoxate to protect new, younger-looking skin through high UVB absorption and dynamic UVA protection. Obagi physical sun block SPF32 is a more traditional sunscreen with 18% zinc oxide, providing broad-spectrum UVA/UVB protection.
---
Professional-C® serums
Obagi Professional-C® serums, available in 10%, 15% and 20% concentrations, contain potent L-ascorbic acid (vitamin C) to hydrate, lighten, brighten and soften the skin, providing powerful antioxidant benefits that complement any skin care routine. Clinical studies have shown that Obagi Professional-C® Serums offer significantly better penetration than other vitamin C serums and are absorbed up to five times better. They are particularly effective when used in conjunction with the Obagi Nu-Derm® systems.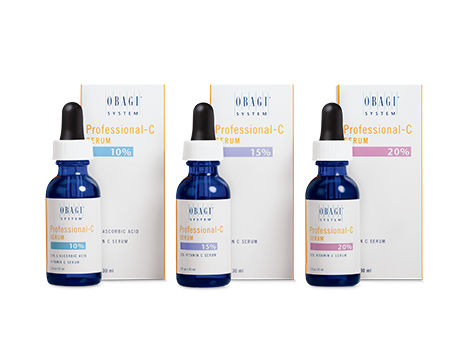 ---
Professional-C® microdermabrasion polish and mask
A new and exciting addition to the Professional-C® range, the microdermabrasion polish and mask, containing a powerful infusion of 30% vitamin C plus sea berry fruit oil and ultra-fine crystals for exfoliation, unveils dramatically brighter, smoother, more youthful-looking skin