Dr Rose stocks a range of highly effective aesthetic skin care products, and can advise on which ones will be most effective for your skin.
Dr Rose Club bespoke skin care range
The Dr Rose Club range of bespoke, high-quality skin care products, all made in Britain, paraben-free and cruelty-free, includes:
Protect 50
A highly effective, photo-stable, broad-spectrum, lightweight physical sunscreen. Protect 50 contains a combination of clinically proven filters to protect the skin from the harmful effects of UV rays. It is water resistant and contains clinically proven AHAs (alpha hydroxy acids), citric acid and lactic acid to gently increase cell turnover. It is light and easily absorbed with a mineral makeup tint to give an even appearance while having a hydrating effect on the skin and protecting the DNA. Protect 50 can be used in place of a moisturiser or underneath makeup.
Hydrate
Hydrate is an active serum containing hyaluronic acid, a natural humectant occurring throughout the body with over 50% being in the skin. The magic of this ingredient lies in its ability to retain moisture. This is important with regard to skin ageing because one of the qualities of youthful skin is its ability to hold water. Hydrate is suitable for all skin types and is absorbed without leaving any residue. As well as hydrating the skin, it reduces the appearance of fine lines and wrinkles, promotes an even skin tone and a healthy glow, and helps to heal and soothe inflammation. It is also ideal as a makeup primer. Hydrate is free from animal products, parabens and propylene glycol.
Restorative Swag Bag
Dr Rose Club's handbag-sized Restorative Swag Bag, ideal for travel, includes 10ml each of Dr Rose's signature bespoke skin care products:
Protect 50: daily tinted broad-spectrum sun protection (see above)
Hydrate: active hyaluronic acid serum for optimal hydration (see above)
Reveal: glycolic wash which cleanses the skin and increases cell turnover, revealing new, younger-looking skin. Reveal contains the natural clinically proven alpha hydroxy acids (AHAs) glycolic and citric acid, to gently remove the build-up of dead skin cells, together with salicylic acid to remove impurities and excess oil
Recover: rejuvenating night cream, specifically developed to repair and renew through its antioxidant activity. Rehydrates your skin to allow overnight recovery and reveal a softer, more youthful appearance for the new day ahead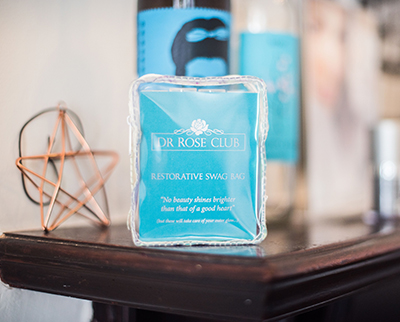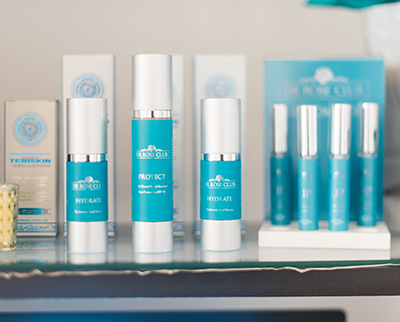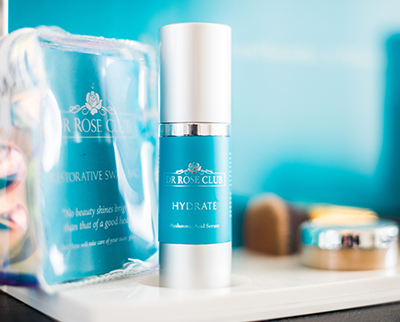 ---
SkinVital®
SkinVital® by SkinMed is a revolutionary anti-ageing serum which uses patented technologies to deliver highly active ingredients deep into the skin. SkinVital® is non-animal-tested and contains the following active ingredients:
Ferulic acid, an organic compound found in plant cell walls which fights free radicals to reduce damage caused by oxidative stress
Vitamin C which plays an essential role in collagen synthesis and acts as a depigmenting agent. SkinVital® contains 20% vitamin C
Vitamin E, another powerful antioxidant which protects skin from scarring and age spots and boosts hydration
Vitamin B3 (niacin) to alleviate dark spots
Vitamin B5 (pantothenic acid) to rejuvenate, hydrate and accelerate the natural healing process
Hyaluronic acid, a naturally occurring substance in the skin that helps to add volume and hydration
With daily use of SkinVital®, lines and wrinkles are reduced, skin tone is evened, skin and pores are tightened, and skin is hydrated and softened. Dr Rose can advise you on how to use SkinVital® most effectively.
For more information on SkinVital®, click here.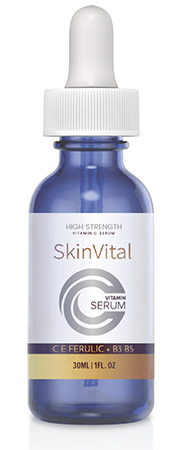 ---
r-Retinoate® Youth Activating Cream
The product of eight years of work by a Korean superlab in collaboration with Medik8, vegan-friendly and cruelty-free r-Retinoate® Youth Activating Cream contains the revolutionary molecule retinyl retinoate, a hybrid of traditional retinol and clinical-strength retinoic acid.
Acts directly on skin cells to stimulate cellular regeneration and improve collagen synthesis
Visibly reduces fine lines and wrinkles
Evens skin tone and smooths rough skin for a more youthful-looking complexion
Does not break down in sunlight, unlike traditional forms of vitamin A
Can be used both day and night; gentle enough for even the most sensitive skin
Retinyl retinoate is combined with collagen-boosting vitamin C, skin-soothing vitamin E and hydrating hyaluronic acid in a next-generation anti-ageing formula to revitalise the skin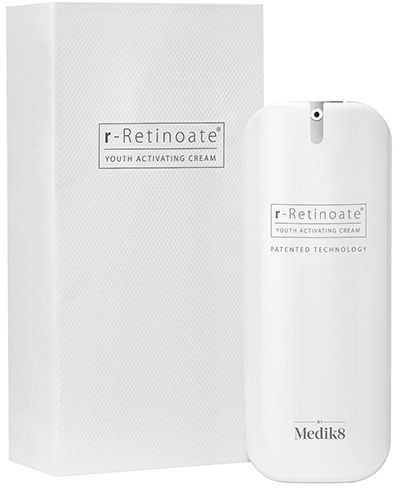 ---
RevitaLash®
RevitaLash® is a specialist cosmetics company that focuses on improving the health and appearance of eyelashes, eyebrows and hair. The products, developed by ophthalmologist Dr Michael Brinkenhoff, are at the forefront of brow, lash and hair advancement, and are designed to boost confidence, enhance natural beauty and provide supremely revitalising results. All RevitaLash® products come in 100% recyclable packaging. Dr Rose stocks a range of RevitaLash® products including:
RevitaLash® Advanced Conditioner: a multi-award-winning eyelash conditioner containing a proprietary blend of scientifically advanced technology and natural botanicals to protect against breakage and brittleness and improve flexibility, moisture and shine. Daily use provides immediate conditioning benefits, leading to healthier-looking, more luxurious lashes.
RevitaBrow® Advanced Conditioner: a breakthrough eyebrow conditioner which conditions the eyebrows to help protect from brittleness and breakage. High-impact proprietary technology, peptides and botanicals saturate the eyebrows with moisture, keeping them soft, luxurious and healthy-looking.
RevitaLash® Hi-Def Tinted Brow Gel: a multi-tasking mineral tint styling gel that helps tame unruly brows to control, enhance and condition, while instantly filling any areas that appear sparse or thin, for immediate, dramatic results. Unique styling brush helps sculpt the perfect brow. Available in soft brown or dark brown.
RevitaLash® Thickening Shampoo and Conditioner: unique, colour-safe thickening and scalp therapy products featuring specialised ingredients to optimise scalp health by cleansing, hydrating and nourishing hair while protecting from environmental stressors.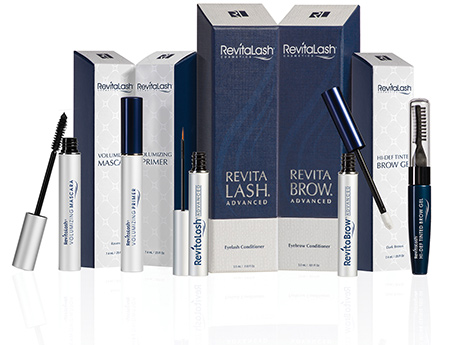 ---
Heliocare® 360˚
We often think of protecting our skin from UVB on warm summer days, but damaging UVA, infrared-A and visible light radiation are present all year round, penetrating cloud and even glass, damaging skin cells and releasing millions of harmful free radicals deep into the skin to cause premature ageing and an increased risk of skin cancer.
The Heliocare® 360˚ range provides unrivalled protection against UVA, UVB, visible light and infrared-A with a combination of broad-spectrum sun protection filters that work at the surface of the skin, and super antioxidant Fernblock FC, which is what makes Heliocare® 360˚ so unique; a supercharged, fern-derived antioxidant that fights and neutralises harmful free radicals in your skin, defending your key skin components such as collagen and elastin. Fernblock FC is the result of years of research and is exclusive to Heliocare® 360˚ products. This unrivalled antioxidant activity is boosted with Vitamins C and E, while the addition of DNA repair enzymes minimises and repairs DNA damage within skin cells.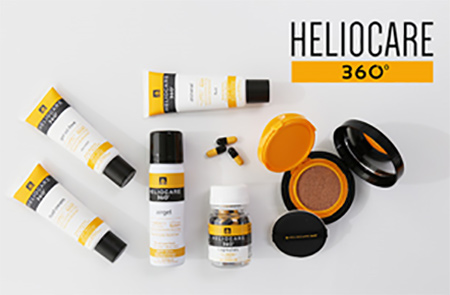 Dr Rose stocks a range of Heliocare® 360˚ products including the new Color Cushion Compact: light, buildable foundation coverage with a beautifully dewy finish, available in beige and bronze and, as part of the Heliocare® 360˚ range, providing maximum skin protection.
For more information on the Heliocare® range, click here.
---
Endocare CELLPRO™
Endocare CELLPRO™ from Aestheticare® uniquely combines two clinically proven skin care innovations, CAF BioAction technology and Retinsphere technology, which work together to result in firmer, plumper, smoother and brighter skin.
CAF BioAction technology uses snail-derived stem cell activators that stimulate the skin's own stem cells to naturally develop into fibroblasts deep in the skin where they produce collagen and elastin
Retinsphere technology increases epidermal renewal with an advanced combination of Vitamin A ingredients
Endocare CELLPRO™ also contains hyaluronic acid and other glycosaminoglycans to enhance the underlying skin architecture, an anti-ageing complex of Vitamins C and E, and an advanced moisturising system
For more information on Endocare CELLPRO™, click here.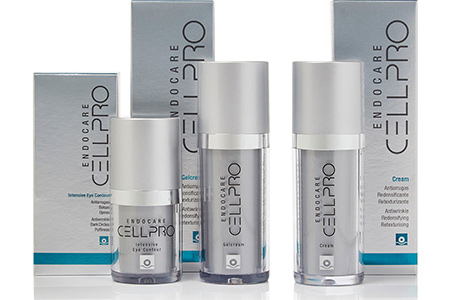 ---
Elizabeth Arden PRO
Elizabeth Arden PRO's clinically proven formulations set another level for performance, utilising the most advanced understanding of skin science and ingredient technology innovations. With the Skin Health & Beauty Pyramid™, the Elizabeth Arden PRO range addresses key skin conditions in five simple, concise skin care regimens (Age Defying, Brightening, Problem Prone, Hydrating and Sensitive) along with booster products that are designed for all skin types. Elizabeth Arden PRO homecare products are designed to enhance, maintain and optimise results between professional treatments by using proprietary ingredients including several cutting-edge, patented and patent-pending technologies:
AHA Retinoid Conjugate – a groundbreaking AHA/ Vitamin A derivative combination
Allyl PQQ – a mitochondrial antioxidant
Arazine™ – a powerful antioxidant
Botanical Complex™ – an antioxidant blend of fruits and spices
Dr Rose stocks a range of Elizabeth Arden PRO products and can advise you on which products are most suitable for your skin, and how to use them for optimal results.
For more information on Elizabeth Arden PRO, click here.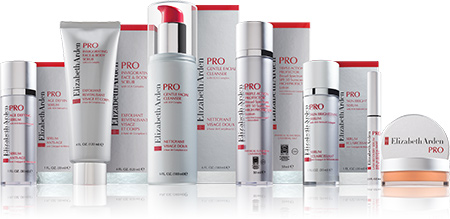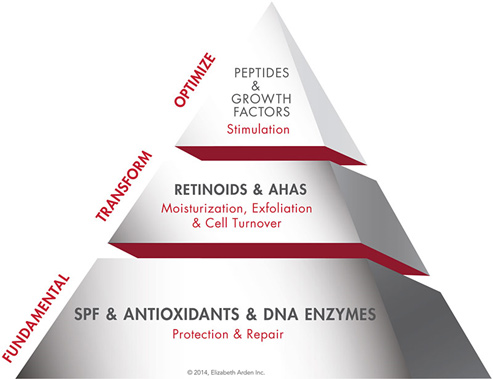 The Skin Health & Beauty Pyramid™
Dr Rose is polite, easy to talk to and from my experience, an excellent clinician. I travel approximately 60 miles for treatment by Dr Rose.